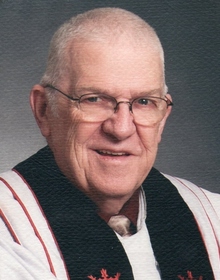 Pastor Craig Smith Scholarship Fund
The Pastor Craig Smith Memorial Scholarship
A new Scholarship has been established at the McKean County Community Foundation by the Mt. Jewett and Hazel Hurst United Methodist Churches to honor Pastor Craig Smith. The Pastor Craig Smith Memorial Scholarship Fund will provide a scholarship to a resident of the Kane or Smethport School District. The recipient will be a high school senior or first year nontraditional adult learner who is an active participant in various activities in their school, church, and community. Scholarship applications will also include a faith-based essay. Anyone wishing to honor Pastor Smith can help this fund grow into a "forever" fund by making a tax deductible donation to the fund through the McKean County Community Foundation.
Pastor Smith's greatest passion in life was his ministry. As pastor of both the Mt. Jewett and Hazel Hurst United Methodist Churches, he touched many lives. He continued his outreach as a very active member of his community. Pastor Smith announced many sporting events for The Hound radio station and was the founder of the radio program "The Light on The Hill" that was broadcast every Sunday morning. As a coach and umpire in Little League, he was a mentor to many children and young adults. "Pastor Smith loved working with both kids and adults, and was one of those special people who always found the good in everyone he met", said Linda Myers, a parishioner at Hazel Hurst United Methodist Church.
Additional funding may also be available to recipients of this scholarship. The Community Foundation is involved with the Partnership for Access to Higher Education (PATH) and will nominate all students who receive a scholarship from them to the PATH program. This essentially doubles the dollars a scholarship recipient can receive. This program is administered through PHEAA which provides matching dollars to qualified candidates.
The scholarship applications will be available at the Kane and Smethport Area High School Guidance offices or by contacting the Community Foundation. All applications must be returned to the Community Foundation offices at P.O. Box 934, St. Marys PA 15857 by April 13, 2018.
Anyone interested in donating to the fund or establishing a scholarship of their own can contact the Foundation toll-free at 1-844-238-2289 or email mccf@zitomedia.net.
https://mckeancountyfoundation.org/wp-content/uploads/2018/09/Pastor-Craig-Smith-photo.jpg
280
220
https://mckeancountyfoundation.org/wp-content/uploads/2018/10/McKeanCCF-logo-1024x254_1-1-1024x254.png
2018-09-11 07:50:48
2018-09-17 15:43:37
Pastor Craig Smith Scholarship Fund