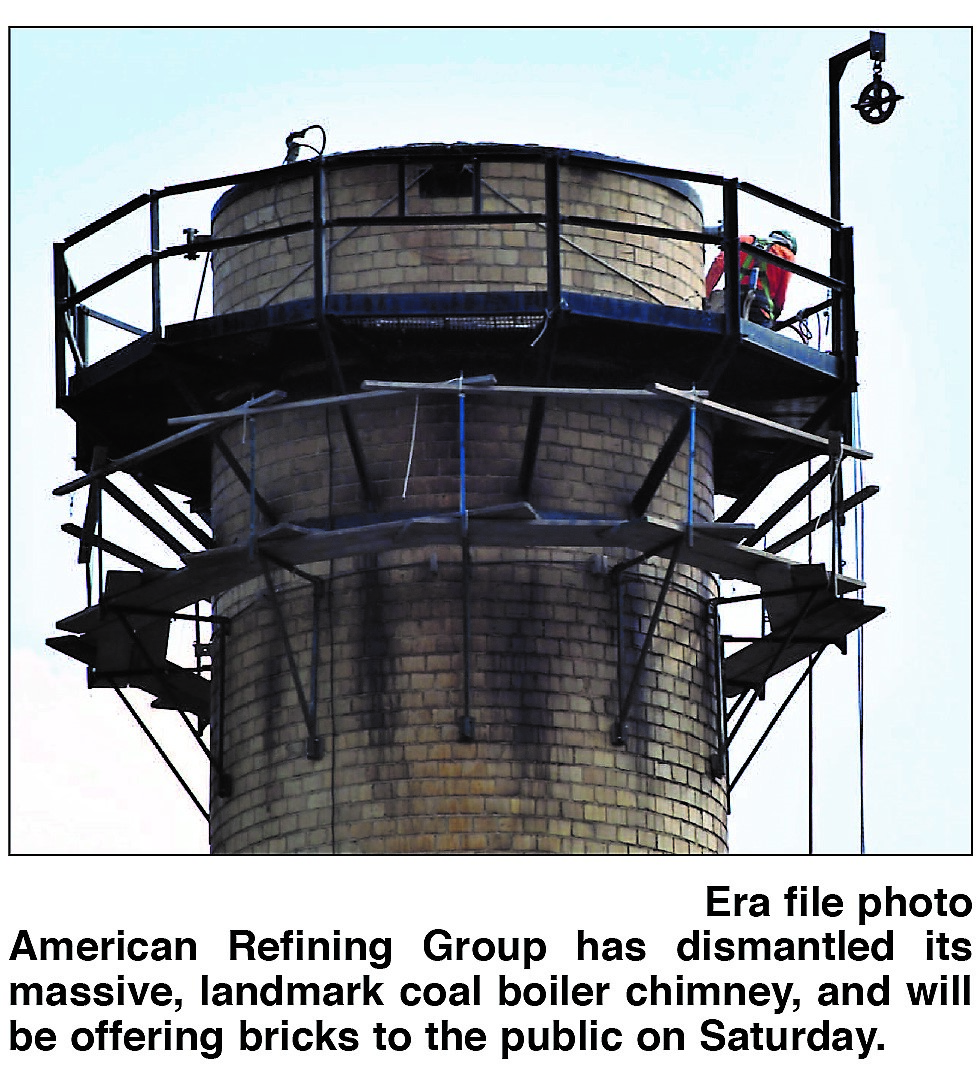 Boiler stack bricks available locally
American Refining Group Inc. (ARG) will offer bricks from its recently dismantled coal boiler chimney 8 a.m. to 2 p.m. Saturday.
The bricks are available on a first-come, first-served basis for a suggested donation of $5 to the McKean County Community Foundation until 2 o'clock or the supply is gone.
Things will be set up in ARG's employee parking lot adjacent to the GE Energy (formerly Dresser) access road, just across that road from Hull Electric's new location off North Kendall Avenue.
"We want to emphasize that these 'bricks' are far from perfect," said Jeannine Schoenecker, ARG president and chief operating officer, "but they are definitely a chunk of our community's history.
"While our Maintenance and Operations personnel did kindly sort through what was left of our boiler stack for those bricks still more or less in one piece, they are rough and that is why we are just suggesting a donation."
All proceeds and, perhaps most importantly, awareness generated by the event will benefit the McKean County Community Foundation's general Fund for the Future.
"It has been fascinating to hear from people all over the country who are interested in having a piece of what was – to those who do or have lived and worked here – really a memorable and even iconic structure," Schoenecker said.
"From individuals who grew up in the valley and could see the chimney out of their bedroom windows, to folks who worked at the Bradford refinery or have relatives who did, the interest has actually exceeded our expectations."
Schoenecker continued, "So many people were disappointed to see the stack be torn down, but as a result we hope to build up our new, but growing community foundation."
For more information about the MCCF, visit www.mckeancountyfoundation.org, send an e-mail to mccf@zitomedia.net, call (814) 834-2125 or follow the foundation on Facebook
.
For more information about ARG, visit www.amref.com or follow the refinery on Facebook and LinkedIn.
https://mckeancountyfoundation.org/wp-content/uploads/2018/09/Boiler-stack-bricks-available-locally.jpg
1074
977
https://mckeancountyfoundation.org/wp-content/uploads/2018/10/McKeanCCF-logo-1024x254_1-1-1024x254.png
2018-09-25 19:00:40
2018-09-25 19:00:40
Boiler stack bricks available locally