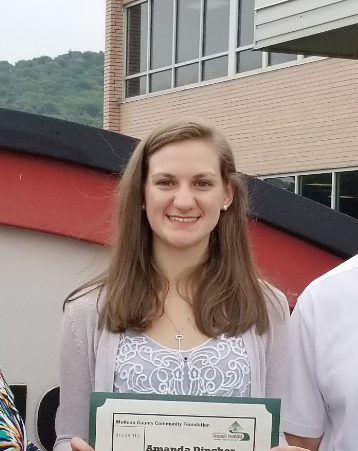 Amanda Dincher earns scholarship
Amanda Dincher, daughter of ARG Technology Director Tim Dincher, has been selected to receive the inaugural ARG Employees Scholarship. Amanda is enrolled at Penn State Altoona and is well on her way toward earning a bachelor's degree in chemical engineering in May 2021. After completing 15 credits on campus her grade point average worked out to a 3.65. While still at Bradford Area High School through its Bridges Program with the University of Pittsburgh, she completed 29 college credits with a 3.7 GPA.
Amanda is currently serving as an intern with our Engineering Group, reporting to BJ Sayers. At Penn State, she is a member of the Society of Women Engineering (SWE) as well as Students About Living Truth (S.A.L.T.). Her volunteer and community involvement includes Kiwanis Club, Key Club, Bradford Little Theater and chorus.
The $500 scholarship will be paid directly to Penn State on Amanda's behalf. In 2018, the McKean County Community Foundation awarded 17 students with scholarships totaling nearly $14,500. For more information about the MCCF send an e-mail to mccf@mckeancountyfoundation.org, call (814) 834-2125 or follow the foundation on Facebook.
All proceeds from the ARG Golf Outing (set Aug. 17 this year) will benefit the fund, while the Picnic Committee's 2018 gift-card raffle proceeds will also be submitted to build the fund balance.
ARG scholarship organizers plan to build this fund to a level where it can distribute at least one $500 scholarship every year in perpetuity, beginning with this award. ARG employees' children, grandchildren or legal dependents pursuing any post-secondary education are eligible to apply.
Scholarship applications are reviewed by a third-party sub-committee of the MCCF Board of Directors and the selection must be voted upon by the full board before a winner is announced.
Full details regarding the scholarship, eligibility and application instructions will be distributed to all ARG employees when the application period opens again in 2019.
https://mckeancountyfoundation.org/wp-content/uploads/2018/07/Screen-Shot-2018-09-25-at-1.56.18-PM-e1537898327236.png
451
358
https://mckeancountyfoundation.org/wp-content/uploads/2018/10/McKeanCCF-logo-1024x254_1-1-1024x254.png
2018-07-17 07:06:34
2018-09-25 17:59:36
Amanda Dincher earns scholarship