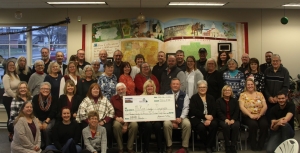 The McKean County Community Foundation and Commissioners Award Grants
The McKean County Community Foundation(MCCF) and the McKean County Commissioners announced Monday evening the recipients of$226,595 in grant monies awarded to 40 McKean County organizations as McKean County's portion of funds from the American Rescue Plan Act (ARPA).
After MCCF Executive Director Paula Fritz Eddy and President Robert Esch welcomed a filled room of McKean County volunteers, they offered heart-filled appreciation to McKean County Commissioners Carol Duffy, Cliff Lane and Thomas Kreiner for their partnership during the application, review and grant process. The commissioners each then took a turn to address the packed room. They recognized how the pandemic affected the nonprofits sector of McKean County's communities and explained why they had chosen to award the ARPA dollars to organizations and clubs who encourage sustainable projects which would make a lasting impact in McKean County communities.
When McKean County was awarded the ARPA funds, it was an easy choice for the commissioners to partner with the MCCF — MCCF is a non-profit organization that manages funds and awards grants on a regular basis. Once the partnership between the commissioners and MCCF was formed, notice for nonprofit 501©3 and faith-based organizations who provide services to the public was released, enticing applications from eligible groups. The submitted requests amounted to twice as much grant money as was available. In response, the MCCF has begun to build their McKean County Community Development fund with the aspiration to meet some of the future needs of area nonprofit agencies that serve the McKean County area.
The ARPA grants totaling $226,595 were awarded. For a complete list click here.
Article by DANIELLA LANGIANESE from the Bradford Era published on Tuesday December 13, 2022.
MCCF provides the administrative and investment management services that make it easy for donors to accomplish their charitable wishes by establishing donor advised, scholarship, and other types of funds at the Foundation. The Community Foundation of the Northern Alleghenies is the parent company of the McKean County Community Foundation and the Elk County Community Foundation. For more information, please contact the Community Foundation at 844-238-2289.