Beacon Light receives $5,000 grant from McKean County Community Foundation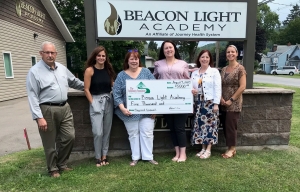 Photo: Recently board members visited the site of the Beacon Light Academy to present a check for the new playground.  From left to right is from the MCCF, Board president Bob Esch, Board Member Sarah Lonzi and Executive Director Paula Fritz Eddy, Chrissy Reigel, Beacon Light Director of Educational Services, Anita Holman, Journey Health System Director of Business Development and Tana Smith, Journey Health System Director of Institutional Advancement.
The McKean County Community Foundation (MCCF) is pleased to announce the awarding of a grant for $5,000 from the McKean County Development Fund, which is administered by the Foundation. The grant was awarded to the Beacon Light Behavioral Health System to help fund a new outdoor space and playground at their school.
Beacon Light will construct an approximately 7,000 square foot playground at its private school, Beacon Light Academy. The playground will have safe, inclusive equipment including swings, a fitness station, cozy cocoons, congas, vibes, benches and tables. Students attending the school have special needs, and the playground is designed to support emotional, sensory, and physical learning to improve mental health and overall well-being.
Beacon Light Behavioral Health System (Children's Center for Treatment and Education) has been a premier provider of behavioral health and intellectual/development disability services for many years. The agency's philosophy is built on the concept of recovery and providing treatment alternatives geared towards allowing individuals to live productive, meaningful lives in their natural living environments. Anyone interested in supporting Beacon Light Academy's playground project can contact Tana Smith at 814-776-0254 or visit www.givetobeaconlight.org
The McKean County Community Foundation is a nonprofit organization that helps individuals, families, groups, and businesses be philanthropic or charitable. MCCF provides administrative and investment management services that make it easy for donors to accomplish their charitable wishes by establishing donor advised, scholarship, and other types of funds at the Foundation. Grants and scholarships awarded from these funds improve the quality of life in our communities.
The Community Foundation of the Northern Alleghenies is the parent company of the McKean County Community Foundation and the Elk County Community Foundation. For more information, please contact the Community Foundation at 844-238-2289.